---
What do you know about Lesley Day?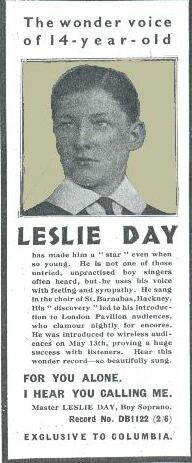 Lesley Day was a boy soprano who made two film appearances: Television Follies (1933) and Musical Medley (1935). So, what happened to him and where is he now? Can you fill in any biographical details. And what happened to those films?
If you have any idea then please send an email to us.
And if the text is a little too blurry to read then here's what it says:
The wonder voice of 14-year-old Lesley Day has made him a "star" even when so young. He is not one of those untried, unpractised boy singers often heard, but he uses his voice with feeling and sympathy. He sang in the choir of St. Barnabas, Hackney. His "discovery" led to his introduction to London Pavilion audiences, who clamour nightly for encores. He was introduced to wireless audiences on May 13th, proving a huge success with listeners. Hear this wonder record - so beautifully sung.
And here's a YouTube clip of him singing.
Previous can-you-helps are here.
---